Endsche/Zarev Brod – A German Settlement in Bulgaria
Excerpts from a Travelogue by Hans-Ulrich Köhler
Translated by Rose Vetter, 30 May 2013
Original article "Endsche - eine deutsche Siedlung in Bulgarien" by Hans-Ulrich Köhler, Heilbronn.
Photos by Ulrich Schmidhäuser, Stuttgart-Zuffenhausen
Article provided by Maria Kasmannshuber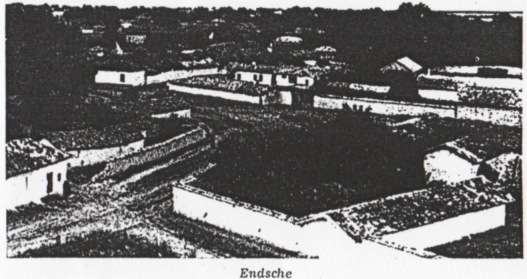 In the summer of 1939, we three adventurous high school graduates from Heilbronn, Germany decided to spend our last school holidays seeing and experiencing the unknown country of Bulgaria. After months of planning, saving our money and acquiring maps and books, we finally boarded a train to Passau. There we embarked on the first of several steamships, which slowly took us downstream on the ever-widening Danube. On this unforgettable trip we met many people and saw amazing places, such as the cities of Budapest and Belgrade and the Kazan Gorge, before we finally arrived in the first Bulgarian city of Vidin. In Rustchuk we disembarked and took a train to the city of Varna on the Black Sea coast, where we spent six days exploring the area and its attractions. We were fortunate to meet two friendly Bulgarian students who spent all their free time with us, showing us the sights, offering us valuable advice on where to eat on a student's budget, as well as introducing us to the art of bartering with the fruit vendors.
By a coincidence, we heard that only 10 kilometers from Schumen, the city with a Turkish past, there was an "international village", Endsche, where about 400 Germans formed part of a community of almost 2000. The rest were Bulgarians, Turks, Tatars, as well as smaller minorities of Macedonians, Jews, Rumelians and various smaller ethnic groups. Although we were naturally most interested in the German villagers, we did not want to forgo this unique opportunity to take a crash course in ethnology. We especially wanted to learn about the tribal and religious identity of the Tatars. We had planned three days for our visit in this unique village, and would not regret lugging our heavy backpacks along dusty roads in temperatures of 40°C in the shade, although we were fortunate to hitch a ride on a cart pulled by water buffalos, for one leg of our trip. Covered with dust and bathed in sweat, we arrived in the village, which was nestled among trees, with wide, dusty roads and low Muslim houses that had no windows facing the road. With a small minaret and two modest churches, the settlement stretched out amidst corn-, sunflower- and grain fields in the glowing heat. But that picture was soon to change. When we asked a Bulgarian man standing by the roadside for directions to the German community, he eagerly showed us the way. By all indications, we felt that there was a good relationship among the different ethnic groups of Endsche. A little later, we felt it necessary to ask another man for directions. When he responded to our broken Bulgarian in the local Swabian dialect, we were overjoyed and instantly felt at home when he responded to our broken Bulgarian in the local Swabian dialect and guided us to the convent.
The priest, the head of the German community, emerged from his well-built house. Of portly stature and sporting a full beard, he must have been about 40 years old at the time. Unfortunately, I neglected to write down his name in my travel journal, however, all the old Endsche townsfolk know him well. He introduced himself in High German, but with a Dutch accent. We had the impression from the time we met him, that this man was happy to meet people from Germany who could bring him news about the rest of the world. We warmed up to him the minute we met, for he regarded us as human beings, rather than asking us about our religion or other matters. Having virtually no communication with his homeland, he eagerly absorbed any news we had of Central Europe. In his clean and simple home, he proudly served us clear fiery grape liquor, his own home-distilled product. After attending to this male ritual, Father gave us a chance to cleanse ourselves of the dust and sweat and saw to it that a hearty meal was prepared for us, which would attest to the status of his agricultural property. But before taking us to see his garden, a visit to the mayor was in order; the priest naturally respects and regards him as the worldly head of Endsche. The mayor was thrilled to receive visitors from Germany, even though we were only dressed in short pants and shirts with rolled-up sleeves. Following this official "state visit", we went for a long walk with our host, accompanied by his magnificent, well-trained wolfhound. He could finally show us everything he had achieved as a hobby farmer. Our praise and admiration for him came from the heart, for it was incredible what this man had accomplished--clean stables; healthy milk cows and fat pigs; a bountiful, well-kept orchard; fields of sunflowers, corn, wheat and potatoes. This was testimony to what abundance could be produced on fertile land by intensive agricultural methods.
Once we returned from our walk, Father showed us another one of his hobbies. He retrieved his small-caliber rifle, took aim at a sparrow on a roof and hit it with a sure shot. I have to admit that we could not compete with him, however, we were glad to laugh about our defeat, as we could already smell the wonderful aroma of dinner wafting from the house. During our animated conversation that evening, we learned that one of the nuns came from the noble house of Neipperg in Schwaigern, not far from our home in Heilbronn. Surely she would be happy to meet young people from her immediate home area. We met with her the next morning and it turned out to be a happy occasion, especially since the former countess had not been back home for a long time.
We retired to the community hall quite late, where we found thick sheepskins spread on the floor for us. After the delicious meal of chicken, beans and peppers, accompanied by a heavy red wine, we slept like bears till morning. Unfortunately, our photographer woke up with an upset stomach and a fever. Could it have been the water, or was he just not used to the food? Luckily one of the nuns, who specialized in caring for the sick, came to his rescue with the proper remedy to cure his "tropical malady", for which we were very grateful. The nuns in the convent are very reclusive, so that we only had personal contact with the Landsmännin we visited with in the morning. But Father was eager to see us again, as he wanted us to meet several German families. These people had come to Bulgaria from the Banat and the Dobruja region in their search for land before World War I. We were allowed to inspect the clean, whitewashed house of the Hummel family. In the yard we saw well-maintained agricultural machines and a large pile of grain that still needed threshing. The simple, practical furnishings of the interior conveyed a feeling of contentment and affluence. The beds, decorated with snow-white, embroidered pillows, were their showpieces. The young couple, who had been occupied in the yard, interrupted their work to show us everything, so that we could gain an insight into how diligently the settlers in Endsche were managing and enhancing their properties. The parents then joined us and told us that they were going to be resettled. At the time of our visit, this initiative of the German and Bulgarian governments was in the planning stages, but not yet in progress. To our question where they would be going, Herr Hummel did not quite know the answer. He spoke of the "Bummerland". We were not sure whether he meant Böhmerland (Bohemia) or Pommerland (Pomerania). In the meantime, this puzzle should have been solved, and the odyssey of the Hummel family and the rest of the Endsche settlers should have ended. What struck us at the time was the trust that these people had towards Germany. We didn't know what to say and felt sad that this contented, idyllic life would be replaced by an uncertain future. On the one hand, we felt that, within the framework of a new cohesive German settlement area, there would be more security for such scattered groups, in ethnic, as well as in economic regard; on the other hand, we did not know whether the Endsche citizens would be able to find their bearings politically, for it was to be expected that there would be a totally different, more rigorous world opening up for them. From what we had observed, the various ethnic groups of Endsche lived together in harmony despite their contrasting religions, cultures and languages.
On Sunday, the whole German community, young and old, gathered in church, dressed in their finest--clean white shirts and blouses, the women wearing their head scarves. The sermon and the simple, solemn hymns suited these humble, honest people. We admired them for steadfastly preserving their heritage in this island community among various cultures. At the same time, we stood in awe of the down-to-earth and humane attitude of their spiritual leader.
When we returned late on the last evening, another rich meal was waiting for us--meat, ample vegetables, rice and potatoes, naturally accompanied by more grape liquor and red wine. This was followed by a picture-perfect assortment of fruit that would have delighted any still-life artist.
We bid our farewell and left Endsche behind us in blistering heat; we were lucky to be able to load our backpacks onto a farmer's wagon. Through the middle of a Bulgarian army maneuver, we sweated our way to the Schumen train station. We did not suspect that, four weeks later, we would hear of the military mobilization of Germany. Years later, Heilbronn would become the sister city of the Dobruja- and Bulgaria Germans, and we would once again be in touch with Germans of Bulgaria.
---
[Published at DVHH.org by Jody McKim Pharr 3 June 2013]