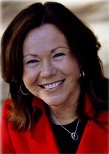 Oma's Hendlpaprikasch (Haynd'l-pup-ri-kawsh) – Chicken Stew
Comment: This is my mother's recipe. She was born in Keshinci, Yugoslavia (Croatia). She made it for her family in Milwaukee, Wisconsin; now I cook it for my kids and grandkids in Arkansas.
1 chicken cut into pieces

3 tablespoons vegetable or olive oil

3 medium or 2 large onions, diced

1 large tomato, diced

1 large red or yellow bell pepper, diced

1 small hot chili pepper

2 teaspoons salt

1/8 teaspoon black pepper

2 tablespoons mild Paprika

3 to 4 medium potatoes, peeled and cut into wedges
In a soup kettle or Dutch oven sauté onions in hot oil until lightly browned. Add paprika, tomato, peppers, and spices. Cook for 1 minute. Add chicken pieces and place potato wedges on top of chicken. Add just enough water to cover potatoes. Bring to a boil, then reduce heat and cook for 45 minutes or until chicken is done. Serve over home-style noodles or knodel.
[Edited by Rose Mary Keller Hughes, Recipe Coordinator. Published at DVHH by Jody McKim Pharr]