Lenauheim Family Registry

· Anton · Bernhardt · Bernard/Bernhardt2 · Bohn/Bonn · Bitto · Endres/Andres · Engelman · Engler · Funk · Götz1 · Gricolo/Gricola(o/or)/Kriogol · Huckl/Hockl · Huckl/Hockl2 · Illek · Kauden/Kauten · Kause · Kern · Kessler · Kirsch · Klein · Konrad · Kottak · Lahm · Laurin/Lausch/Lauer · Ludwig · Majer · Martin/Merten · Martin/Merten2 · Messner · Mumper · Mumper2 · Oster/Ostern · Pfeiffer · Plener · Pöcz/Götz/Göz2 · Raster · Reidler · Reitler/Reidler1 · Reitler2 · Ries · Russo · Santh/Sonther · Scheid · Schilling1 · Schilling2 · Schmidt1 · Schmidt2 · Schmitz · Schulcz · Schuster · Teis1 · Teis/Thies2 · Walter · Weigl(s) · Zahari · Zimmerman · Zeumann ·

To add your family to this registry, email Jody & in the subject line please put: Lenauheim Family Registry - provide your surnames, your contact information & web link if you have a homepage. If you would like your family data added to this site, please submit with initial contact.

The Lenauheim (Csatad) in BanatFamily Book or available on CD

New Lenauheim Family Book - a huge work of two thick volumes! The books are much more comprehensive - they go up to the year 2005, whereas the CD only has data up to 1835, or 1849 in some cases. There are cross references to other villages, and other such details. The person to contact for the Lenauheim FB is Werner Griebel (e-mail w-griebel@arcor.de ), his address is: Herrn Werner Griebel, Lemaitrestr. 82, D-68309 Mannheim, Germany. Purchase Price: 75 Euros = $96.00 (rates as of June 6, 2006) - Diana Lambing
Lenauheim Researchers

The Lenauheim (Csatad) in Banat Family Book on CD
is now available
by Stefan Stader and Peter Tarnai/Taugner
CD consist of about 500 pp with data in family book format covers Lenauheim births 1767-1835, marriages 1767-1835 and deaths 1767-1849. This CD is being produced by the AVBF.
The price will be $20 which includes the postage. It will be possible to print a single page or the entire book from the CD. PDF files (Adobe software) Rudy Kirchner is working on the HTML version, which will be available in the future.
To purchase the Lenauheim Family Book on CD, contact: Dave Dreyer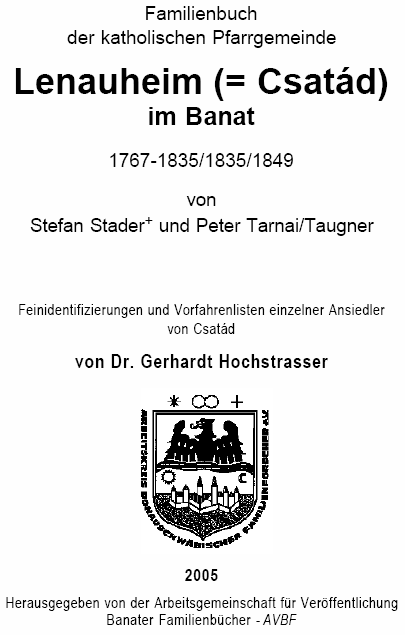 Familienbuch der Katholischen Pfarrgemeinde
Lenauheim (=Csatad) in Banat
1767-1835/1835/1849
by
Stefan Stader & Peter Tarnai/Taugner
Feinidentifizierunger and ancestor lists of individual setters of Castad of Dr. Gerhardt Hochstrasser 2005
The Lenauheim (Csatad) in Banat Family Book
or available on CD
Feinidentifizierunger und Vorfahrenlisten einzelner Ansiedler von Castad
Von Dr. Gerhardt Hochstrasser 2005
Herausgegeben von der Arbeitsgemeinschaft für Veröffentlichung Banater Familienbucher - AVBF
Abbreviations used in the book: