Müller / Muller & Spetka
Families of Mercydorf
Researcher & DVHH-L Mail List Subscriber: Stephen Marchese
I am trying to find more information on my grandfathers family from the Banat.
Nicholas MULLER, b. Unknown
Children:

Peter MULLER b. May 1858, d. 9 OCT 1903 New York City; occupation: blacksmith.
Married to Kate (Katarina/Katalin) SPETKA b. 8 April 1871, d. 26 Sept 1938 Staten Island New York. Her father was John SPETKA, no information on his Mother.

Children: Jacob Peter MULLER b. 14 FEB 1890 Mercydorf, died 1971 Nassau County New York.
John MULLER b.

Immigration: Peter MULLER arrived in New York Jan 21 1891,
Wife Katarina and children arrived 2 June 1891.
Mercydorf church entry: "Jacob Peter MULLER; b. 21 Feb 1890, baptized 23 Feb 1890, parents Peter MULLER & Katalin SPETKA. Godparents: Fischbach, Jakab and wife Katalin. In resident column it reads Zsadanyi [German: Saden, Schadan / Hungarian: Zsadany, Zsadani, Mezözsadány/ Official: Cornesti, Romania / Variants: Jadani]. More about Zsadany.
Would like a translation of the following images:

Family Note written in German: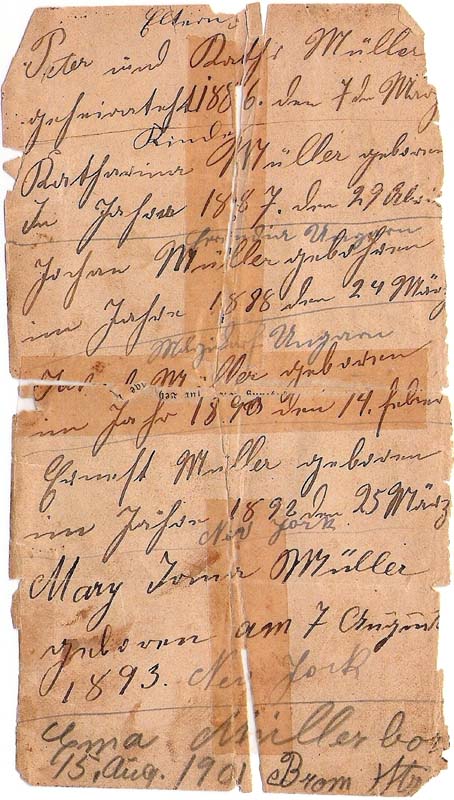 All the best
Stephen