St. Louis, Missouri (MO)
Archivist: Volunteer!
---
§

Danube Swabian Memorial St. Louis, Mo.

This memorial, dedicated to the memory of the Danube Swabians, was erected by the German Cultural Society of St. Louis in 1993. After World War II, the Danube Swabian people were banished from Hungary, Romania & Yugoslavia. Over 100,000 Danube Swabians in Yugoslavia died between 1944 & 1948. The survivors now live all over the world & it was estimated in 1993 that about 250,000 Danube Swabians lived in the United States.

Memorial Inscription

The Danube Swabians are descendants of German farmers and craftsmen who, after the expulsion of the Turks from Hungary, settled in the area known as the Pannonian Basin, between the years of 1630 and 1794.

With the plow, not by the sword, they established a new homeland in the regions known as Banat, Batschka, Syrmia, Slavonia, Baranya-Tolna and the hills round Budapest.

The Danube Swabian people lived in peace and harmony with neighbouring nationalities. Through hard work, cultivation of the soil, and the clearing of the land, what once marsh and wasteland became the granary of the Austrian-Hungarian Empire.

At the end of World War I, their homelands were divided between Hungary, Romania, and Yugoslavia. In the year 1940, 650.000 Danube Swabian lived in Hungary, 350.000 in Romania, and 550.000 in Yugoslavia.

After World War II, the Danube Swabian people were deprived of their rights and dispossessed of their lands and properties by the communist dictators in their countries, they were banished from their homes, deported or imprisoned as forced laborers.

In Yugoslavia alone, over 100.000 Danube Swabians, mainly women and children, were killed or starved to death between 1944 and 1948.

Those who survived are now scattered throughout the world. Before 1945, some 220.000 Danube Swabians had emigrated to the United States, and after 1945, another 30.000 followed. By 1993, some 250.000 Danube Swabians have made the United States their home.

Inscription Transcribed by Andrea Ballreich

§ Location: Sunset Memorial Park & Mausoleum
Saint Louis, St. Louis County, Missouri, USA
Plot: Located on a grassy island between Sections 15, 16, 17 & 21

We appreciate Connie Nisinger for contributing this information and photos to the DVHH.
[Published at www.dvhh.org, 2005]
---
Local Genealogical Research Aids
St Louis, St Louis Co., & Missouri State Records

St. Louis, Mo., Naturalization Index
www.slcl.org/branches/hq/sc/nat/nat-project.htm

A Guide to St. Louis, Missouri Naturalization Records
www.genealogybranches.com/stlouisnaturalization.html

Catholic Cemeteries of the Archdiocese of St. Louis
www.archstl.org/cemeteries/

Missouri Digital Heritage
http://ir6b.deepwebtech.com/mdh/search.html

St. Peter's Evangelical Church Cemetery
www.stpeterschurch.org/cemetery/

Gatewood Gardens Cemetery Burial Database
http://stlcin.missouri.org/cemetery/ggsearch.cfm

When you search these sites, for the most part just put in the surname and see what comes up. [Susan Williams]

Donauschwaben Associations & Clubs

1969 The "Deutschen Kulturverein" St. Louis, Missouri was founded.

St Louis German Cultural Society

Dancing in St. Louis 1927 - 1940
http://genealogyinstlouis.accessgenealogy.com/Dancing.htm

1969 The "Deutschen Kulturverein" St. Louis, Missouri was founded.

St Louis German Cultural Society

Social Clubs

Turnverein or Turn Verein denotes a gymnastic or athletic club

St Louis / America citizens with German ancestry . . . [12 Oct 1916]
---
---
St. Louis Turnverein at 1930 Salisbury Street, in Hyde Park
"An important part of late 19th century culture in St. Louis were the many social clubs around the city. The clubs served a variety of ethnic, social, professional and cultural functions. There are a few pre-1900 club buildings that have not been demolished.
An example of a very popular German-American club building is the St. Louis Turnverein at 1930 Salisbury Street, in Hyde Park. Many German societies had been in existence since the 1840's, and included benevolent associations, singing clubs, craft unions and the Turnverein, or gymnastic societies, which emphasized body building, fellowship and sometimes political activities. Also called the North St. Louis Turners Hall, this symmetrical brick building was constructed about 1880. The two-story symmetrical brick building has an unusual mansard roof with three pyramidal towers. The first story has a center entry leading to the club rooms on the second floor; adjacent bays contain storefronts, which provided rental income to support the club's activities. The building contains several meeting halls, an auditorium, a large gymnasium and bowling alley in the basement." [Source: A Preservation Plan for St. Louis]
Fire of July 3, 2006 -The fire quickly destroyed the Turnverein's oldest part, the 1879 building facing Salisbury Street.
http://preservationresearch.com/2006/07/nord-st-louis-turnverein-burns/
http://lofistl.com/turners-nite-club-urban-exploration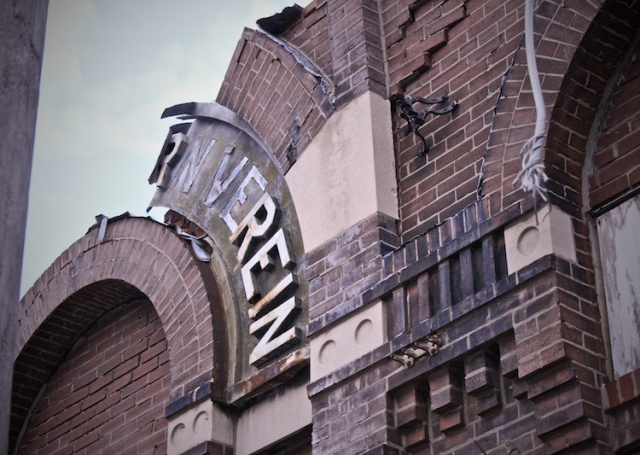 More Photos: http://www.eco-absence.org/stl/turnverein/
Hans Ballin, former Turnverein Member
http://preservationresearch.com/2005/09/meet-hans-ballin/
---
South St. Louis Turnverein
The South St. Louis Turnverein, German gymnastic club, was the second Turner organization established in St. Louis in 1869. Turner organizations were one force leading to the introduction of physical education into St. Louis' public schools.
The present building was constructed in stages, beginning in 1881 and completed in 1905, by Otto J. Wilhelmi and Ernst C. Janssen. It was converted to housing in 1981.
http://exhibits.slpl.lib.mo.us/germanamerican/data/SiteDetail240012639.asp
---
Weißkirchner Gesellschafts Club (Brochure) 22 Feb 1919
Contributed by Dave & Judith Peterson, 30 Jan 2011. The brochure has been in Judith's family for a long time. Her ancestor, Anton Ebert b. 1875 in Weißkirchen, immigrated to the US in 1887. His wife was Laura and their children: Julius, Evelyn, Percy, and Marion. Anyone with information about this club, please contact Dave.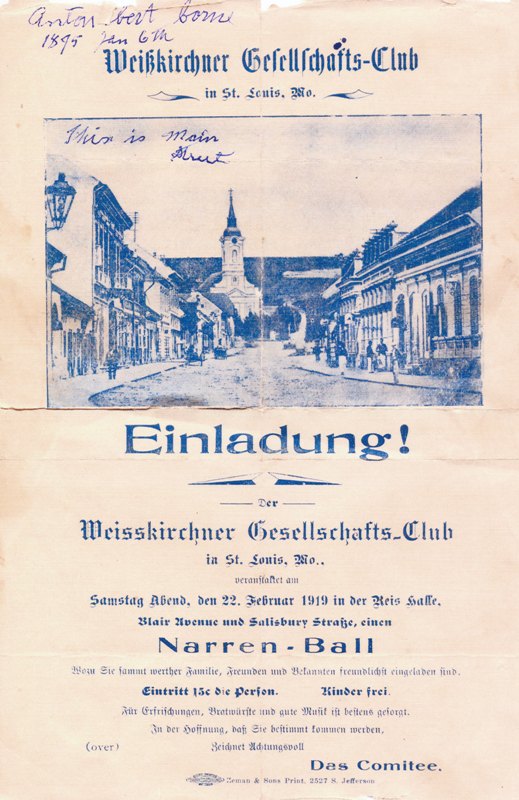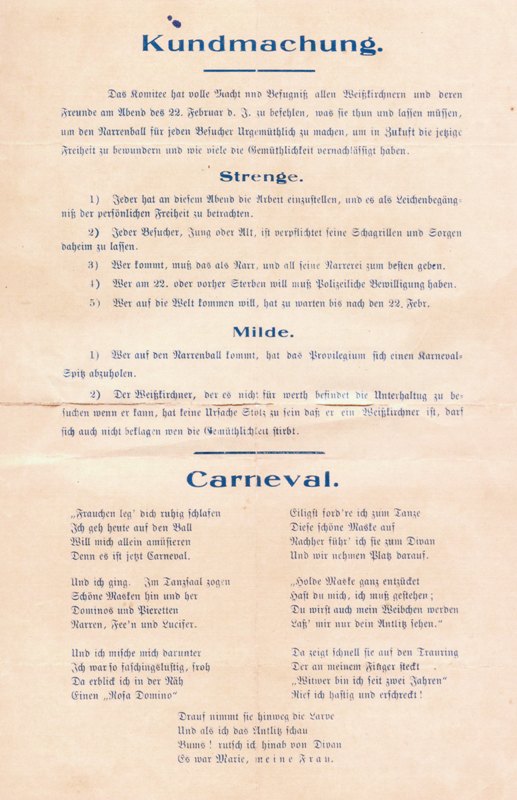 Weisskirchner Group Photo
Contributed by Dave & Judith Peterson, 30 Jan 2011
If anyone knows information or leads to what young men's group this might be, whether it be for a school or social function, please contact Dave. 08 Apr 2011