From Ellis Island, a brief ferry ride will take you to Jersey City, and from there, Elizabeth, NJ, is about ten miles to the south – just across the Arthur Kill [formerly the Staten Island Sound] from Staten Island, and immediately south of Newark. Elizabeth is a port city, one that easily accommodates oceangoing freighters.

First settled in 1664, Elizabeth was the first capital of New Jersey. Both Alexander Hamilton and his nemesis Aaron Burr attended school there, and while George Washington may not have slept there, he most certainly stopped for lunch in 1789 on his way to New York City to be inaugurated first president of the United States.

By the 1830s, the fledgling railroads began to connect the port of Elizabeth with the interior of the country, establishing its position as an urban center of commerce and industry. The population of Elizabeth began a long term increase during this time, as German and Irish immigrants arrived to take advantage of the increased need for labor. Many of the newcomers were Catholics, so the first Catholic Church in Elizabeth, St. Mary's of the Assumption, was established in 1844. Not long after, the German immigrants expressed their need for a German-speaking church, and by 1852, St. Michael's Church on Smith Street began serving the German-American Catholics of Elizabeth.
---
Attraction to Elizabeth
What was there about the community that it attracted Danube Swabian immigrants to go there? What were the early years like?
By 1870, the population of Elizabeth had grown to 20,832. It's location near New York coupled with opportunities for employment in its iron foundries, stove works, oil cloth, glass works, shear works and the bustling docks of a major port had already drawn a sizeable number of Irish and German immigrants. Then in 1873, Isaac M. Singer moved his sewing machine manufacturing company from New York City to Elizabeth. The site was located at the port, where materials for production could be easily received by ship and the product could be quickly sent on its way to anywhere in the world. It was also directly served by the Central Railroad of New Jersey and its access to the interior of the country. For almost 110 years, the Singer Manufacturing Co. (Singer's) was the most important employer in the city. In some families, every working male was employed there, for several generations. By 1900, when the Donauschwaben immigrants from Hungary began to arrive in Elizabeth, the population of Elizabeth had more than doubled to 52,130. By 1930, it had doubled again, to 114,589.
What was there about the community that it attracted Danube Swabian immigrants to go there? What were the early years like?
An Immigrant's Plea to a Powerful Man By Andrew Carroll
Letter dated I think 1942, portion of the letter to the president:
I belong to German sick and death benefit society and a German Singing Society here in Elizabeth N.J. www.historynet.com/an-immigrants-plea-to-a-powerful-man.htm
---
Local Genealogical Research Aids
Elizabeth, Union Co., & New Jersey State Records
When did they first arrive and if possible identify some of the individuals and families and where they came from. How large a concentration of them settled there?
David Dryer's extraction database contains 515 entries for Banat emigrants heading to Elizabeth, NJ, between 1902 and 1923. The heaviest concentration of these emigrants arrived in 1906 (114 entries) and 1907 (131 entries). For the other years, anywhere from 5 to 46 entries are noted. Some entries signify a single traveler, but many were traveling with other family members. In many instances, the husband arrived first and then in a year or two the wife followed with the children. They came from Warjasch (133), Perjamosch (132) and St. Peter (36), with smaller numbers from Alexanderhausen, Apfeldorf, Billed, Bobda, Bogarosch, Engelsbrun, Ernsthausen, Gr. Betschkerek, Gr. Kikinda, Grabatz, Guttenbrun, Hatzfeld, Hodon, Ingrisch, Jahrmarkt, Johannisfeld, Josefsdorf, Kathereinfeld, Kl. Betschkerek, Kl. Sieel, Klek, Knees, Koenoigshof, Lazarfeld, Lenauheim, Lowrin, Lugosch, Mercydorf, Mollydorf, Moritzfeld, Ostern, Pantschowa, Peszak, Rehasch, Schag, Setschan, St. Anna, St. Georgeen, St. Hubert, St Nikolaus, Stefansfeld, Temeswar, Triebswetter, Tschakowa, Tschestereg, and Wiesenhaid. [All village names and spellings above are as recorded on the ship manifest extraction website.]
This database is an invaluable and highly recommended resource for tracking Donauschwaben immigrants to Elizabeth. Mr. Dreyer has extracted an amazing amount of information from ship manifests from 1897 onward concerning German Hungarians who gave a Banat address as their origin, and he has made the information available here. The list is comprehensive for the years from 1903 through 1907 (excepting 1904) for New York arrivals, and 1892 through 1912 for Baltimore. The database can be searched for surname, town of origin, destination, and name of the ship.
Deutsch-Ungarisher Familienkalenders (German-Hungarian Family Kalenders) Sorted by City within State (look for Elizabeth, NJ) Peter Schmidt and David Dreyer have created this database from the Deutsche-Ungarische Familien Kalendar, a cultural publication for Donauschwaben immigrants in America that was published by Josef Marx from 1932 to 1954. The Kalendars included images of the subscription lists, which contained, in addition to the names and addresses of subscribers, their villages of origin and the maiden names of married women. The online database contains this information and can be searched by U.S. or Canadian city, or by surname.
The Kalendar shows 139 separate family subscribers, 1932-54. Although most of ElIzabeth's German-Hungarian immigrants worked at Singer's, the group definitely included small business entrepreneurs. Some of the Donauschwaben tradesmen who advertised in the Kalendar during these years are: M. Schneider aus Warjasch, B.R., barber; John Decker aus Hatzfeld, B.R., poultry market; Henry Frank aus Temesvar, ready meats; John Scheer aus Kistelep, barber; Peter Feiling aus Temes Schag, bar and grill; P. Rennich aus Perjamosch, uhrmacher; Nick Sauer aus Ozidorf, men's and boys clothing; Carl Gaitsch, lieter d. Fidel haus Kapelle; Mich. Tussel aus Warjasch, dairy; John Wichner aus Guttenbrun, feuerversicherungs – agent; Louis Staubach, homemade bologna, meats & delicatessen; Theo Hintz, photographer; and John & Mary Kreutzer's beauty parlor (Lovrin-Kistelep). [These village names and spellings are as they appeared in the Kalendar.]
Note: this database is not a complete listing of Kalendar subscribers.
---
Researchers seeking answers . . .
DONAUSCHWABEN-VILLAGES > 2006-08
From: Bob Davids <drrocks@yahoo.com>
Subject: Backhaus/Lambert in Varjas
Date: Mon, 21 Aug 2006
Dear Mr. Leeb,
Thank you for shedding light on the Lambert line and your efforts for Backhaus. As noted, Barbara Lambert and Adam Backhaus married in Elizabeth, N.J. in the period 1906. Adam, age 21, sailed on the Pretoria with his brother Franz(18) for New York, arriving 23 March, 1903. Their manifest listed only Hungary as ethnicity, no place of residence. The possible identity for his origins in Varjas come from a later sailing by his sisters, Ferencz(19) and Barbara(15) Backhaus, on the Pannonia arriving New York 28 Oct 1905 who listed their "brother Adam in Elizabeth, N.J." as a contact. Barbara Lambert(15), soon to become Adam's wife, sailed on the Pretoria with her sister Anna(14) and a sister-in-law? Marya(?)(24) arriving 2 May, 1903. Their place of residence was Varjas. Adam and Barbara raised three children, Jacob, Helen, and Anna Elizabeth, my mother. Barbara passed in 1930 before my birth and I never knew her, only through my mother. Adam remarried Mary Winkler later in life and he passed in 1961. He was gifted musically, able to play a number of instruments, and talked of having been a member of a group that played in various towns as a young man. Mother had that gift--where it stopped.
Perhaps you can offer some observations on the following: why immigration from the region was so popular towards the turn of the century? Political, economic? From what you describe for just one Backhaus line there was a lot of movement of people within the region so how reliable is the designation of Varjas, for example, as a place of origin? Was it more of a transport hub in route to the ports? And are church records available to trace our people there or have they been destroyed? As usual, the more one looks the more questions arise. Thank you and all for your patience.
Bob Davids
(Publisher Note:
Warjasch, Hungary (German)
Várjás / Varjas, Hungary (Hungarian)
Varias, Romania (Official)
---
Danube Swabian Associations and Neighborhoods in Elizabeth
What ongoing presence of the Danube Swabians continues to exist there to this day? What local Danube Swabians and their descendants achieved some kind of prominence or importance in the life of the community or nation if any?
The German-Hungarian community of Elizabeth weathered the anti-German era of the first world war, survived the great depression of the 1930s when many breadwinners worked only one day a week if at all, endured the anguish of WWII, and participated in a major strike against Singer's in 1949.
Once automobiles became commonplace, however, around the 1940s, many of the residents of the urban neighborhoods of Elizabeth, like urban residents nationwide, began moving to the suburbs, a gradual process that eventually dispersed many of the Donauschwaben community to Roselle, Roselle Park, and Linden. In the postwar period of the 1950s, their children accelerated the move to the suburbs and were less and less likely to look to Singer's for employment. Indeed, many moved to other parts of the state or to other states entirely. By December 1, 1982, the final blow was struck when Singer Manufacturing ceased production in Elizabeth and closed the plant doors for good.
A Google search for 510 Court St., Elizabeth, NJ, for so many years the address of the Fidel Singing Society, shows it to be the current address for the Liberty Baptist Soup Kitchen.
What groups or organizations did they join or form? Did they become members of specific parishes and congregations? Did they tend to live in the same neighborhoods or sections of the community?
The German-Hungarian immigrants in Elizabeth settled in an area of the city that was little more than a square mile in area. It hugged Trumbull St., which bounded it on the northeast and led directly to Singer's. The southeast border was Fourth St. (now the New Jersey Turnpike) and the northeastern boundary was Smith St., the location of St. Michael's Church. A walk of a mile or so or less would take the worker to his job at Singer's or take the family (they were mostly Catholics) to church or school. It was definitely an urban existence, one in which most of a family's needs were met by tradesmen within walking distance, or accessible by a short streetcar ride. For amusement, Elizabeth had vaudeville houses and later movie theaters. Early automobiles were there for those who could afford them, and a same-day trip to New York City and back by train and ferry was an ever available business opportunity or treat.
Associations:
Fidel Singing Society
There was more than one German singing society in Elizabeth in the early 20th century. The Donauschwabens belonged to the Fidel Singing Society. The Fidel owned a building on Court St. where their concerts were performed. The building also served as a social center where meetings or family parties such as wedding receptions could be held.
The Elizabeth City Directories for 1937, 1939, and 1941 list the Fidel Singing Society at 510 Court St., Ferdinand Schillinger, manager. In addition, Mr. Schillinger, from Baraczhaza, and his wife, Barbra Backhaus, from Warjasch, appear at 510 Court St. from 1936 through 1942 in the Dreyer-Schmidt Kalendar website.
Workmens' Singing Society "Fidel"
Member of Federation of Workers' Singing Societies of the USA
(Arbeiter-Sängerbund von Amerika)
Ladies "Fidel" 50th Anniversary , Sunday, April 28, 1968 - Elizabeth, NJ
News Clips
---
Juluis G. Burisch

SPECIAL TO THE NEW YORK TIMES, Published: December 15, 1948

UNION, N.J., Dec. 14 – Julius Gastave Burisch of 960 John Place, formerly a toolmaker and designer for many years with the Singer plant in Elizabeth, N. J., and a founder of the Fidel Singing Society and the Liedertafel Singing Society, died last night at his home after a brief illness. His age was 85. He retired in 1932.
---
Married for Fifty Years

SPECIAL TO THE NEW YORK TIMES - Published: Feb. 7, 1938

ELIZABETH, N. J., Feb. 6. – Mr. and Mrs. Stephen Gaitsch of 931 Cross Avenue were honored today, the fiftieth anniversary of their wedding, with a luncheon at the Fidel Singing Society Club here. Among the guests were the couple's three sons.
---
John E. Ford

SPECIAL TO THE NEW YORK TIMES, Published: May 30, 1969

ELIZABETH, N. J., May 29 – John E Ford, sales director of the Krueger Brewing Company of Newark for 20 years, died last night at his home, 1138 Seib Avenue, of a heart attack. His age was 73. He retired in 1960.

A Democratic leader in Union County, he was a candidate for State Senate and the mayoralty here in the 1940s. Mr. Ford was a founder of the Fidel Singing Society of Elizabeth.

Surviving are his widow, the former Beatrice Mankus, two sons, a daughter, a brother, four sisters and eight grandchildren.
---
John Niesz Sr.

SPECIAL TO THE NEW YORK TIMES, Published: May 25, 1954

ELIZABETH, N.J., May 24 – John Niesz Sr. of 737 South Park Street, president of the Fidel Singing Society for thirty-two years, died today at his home after an illness of several weeks. His age was 67. He retired three years ago as an employee of the Singer Manufacturing Company.

Surviving are his widow, Barbara, three sons, a daughter, a brother and two sisters.
---
Mrs. Katherina Kellman Knaus
Obituaries - CRANFORD (N.J.) CHRONICLE, Thursday, January 26, 1964
Services were conducted Tuesday for
Mrs. Katherina Kellman Knaus
, 90, who died Saturday at Delaire Nursing and Convalescent Home in Linden. Mrs. Knaus was
born in Austria-Hungary
and was brought to the United States and Cranford in 1905: She moved to Newark where she lived for 21 years before moving back here 41 years ago. Mrs. Knaus was a 50-year member of the Emmaus Chapter 183 OES of Linden and of the
Fidel Singing Society of Elizabeth
. Her husband, Nicholas Knaus, died in 1971. . , Surviving are a daughter;. Mrs.Katherine T C. Kratzke of Cranford; two grandchildren, and three great-grandchildren. Arrangements were by the Dooley Funeral Home, 218 North Ave. W.
---

Mrs. Elizabeth Ztzwarek
Obituaries - CRANFORD (N.J.) CHRONICLE, Thursay, January 16, 1969
Funeral services were held Monday at the Walter J, Johnson Funeral Home, Clark, for Mrs. Elizabeth Ztzwarek, 74; of 10 Lexington Ave, who died last Thursday at home. Interment was in Rosehill Cemetery, Linden.
A native of Austria-Hungary, Mrs. Zizwarek came to this country 60 years ago. Before moving to Cranford 17 years ago, she lived in Elizabeth, where she was a member of the Benevolent Society and the Fidel Singing Society.
She is survived by her husband Joseph; three sons, George Danco of Summit, Martin Danco of Westfield and Anton Danco of Clark; a daughter, Mrs. Theresa Brokaw of Linden; a stepson, Joseph Zizwarek of Oceanport; two stepdaughters, Mrs. Anna Wislaus of Elizabeth and Mrs. Elsie Nebenfuhr of Roselle; a brother Michael Nebenfuhr of Linden; three sisters, Mrs. Rose Hockenbury of Oldwick, Mrs., Mary Kearney of Garwood and Mrs. Eve Botzon of Somerville; 21 grandchildren and three great grandchildren.
Workmens' Singing Society "Fidel"
Deceased Members
Transcribed by Mary Regan, Nov 29, 2009
Last Name
First Name

Date of Death

Activ
Passive
Adamy
Nick.
1932
y
Albrecht
Alois
1942
y
Armbrust
Karl
1933
y
Armbrust
Mathias
1941
y
Bauer
Stephan
1927
y
Baumann
Fred
1943
y
Bender
Albert C.
1926
y
Bender
John
1929
y
Beslic
Steve
1937
y
Binder
Jacob
1937
y
Bittenbinder
M.
1942
y
Blum
Peter
1945
y
Bratschko
Joseph
1941
y
Braun
Michael
1931
y
2. Bass
Brescher

,

Jr
Joseph
1935
y
Brescher, Sr.
Joseph
1950
y
Broeker
Fred
1916
y
Bruckler
John
1950
Senger-Ehrenmitglied
Bukva
Nikolaus
1953
y
Bunth
Mathias
1955
y
Burisch
Julius
1948
y
Dahlberg
Dr. Walter J.
1951
y
Dehmer
George
1946
y
Dinger
Paul
1948
y
1. Bass
Doell
Emil
1938
y
1. Bass
Endresz
John
1922
y
Endresz
John
1928
y
Engel
John
1957
y
Erdely
Peter
1955
y
Fackelmann
Joseph
1952
y
Feiling
Peter
1952
y
Fink
John
1918
y
Fischer
Alex
1943
y
Fischer
George
1955
y
Frank
John
1930
y
Frank
Henry
1937
y
Frank
Charles
1946
y
Frank, Sr.
Nick.
1957
y
Fretz
Adolph
1944
y
Fuehrbacher, Sr.
John
1937
y
Germann
Ernst
1956
y
Gilyum
Peter
1954
y
Glawitch
Franz
1946
y
Gommel
E.G.
1931
y
Gross
Joseph
1955
y
Gruliow
George
1944
y
Habenschuss
Stephen
1936
y
Hafner
Alois
1943
y
Harrasz
George
1943
y
Heriet
John
1932
y
Hermann
Ernest
1931
y
Hoehfeld
Max
1956
y
Jeck
Peter
1940
y
Jeck
Philip
1955
y
Kaczmarek
August
1949
y
Kellner
Hermann
1948
y
Kessler
David
1947
y
Kilburg
Franz
1913
y
Kilburg
George
1940
y
Kilburg
Jacob
1953
y
Killian
Andreas
1930
y
Kleb
Henry
1951
y
Knapp
John
1930
y
2 Bass
Knopf
Mathias
1953
y
Koenig
Nikolaus
1934
y
Kreutzer
John
1956
y
Kunc
John
1957
y
Lambert
Jacob
1930
y
1. Bass
Lambert
John
1935
y
Lambert
Michael
1950
y
Lassel
Michael
1956
y
Lenhardt
Frank
1937
y
Lichtfuss
Joseph
1937
y
1. Bass
Lichtfuss
Stefan
1952
Ehrenmitglied
Litvin
Roy
1935
y
Lochner
Erwin E.
1954
y
Lochner
Arthur
1956
y
Lomnitzer
Anton
1926
y
Longauer
Steve
1936
y
Lukenics
Bernard
1940
y
Lupp
Philip
1938
y
Malsam
Gabriel
1933
y
Maricic
Andrew
1952
y
Martin
Adam
1956
y
Marz
John
1925
y
Mayer
Jacob
1952
y
Menzler
Henry
1948
y
Mesz
Frank
1923
y
Misteli
John
1942
y
Mudrak
William
1932
y
Mueller
Peter
1951
y
Mueller
Andreas
1957
y
Nagele, Sr.
Frank
1954
y
Niesz
William
1948
y
Niesz, Sr.
John
1954
y
Nitzel
Oswald
1940
y
Opelz
Jakob
1919
y
Pankuch, Sr.
Joseph
1948
y
Pazcik
John
1940
y
Pents, Jr.
Anton
1942
y
Pentz, Sr.
Anton
1953
y
Piatka
Jacob
1926
y
Pocsics
John
1953
y
Poth
Mathias
1927
y
Poth
John
1931
y
Prohammer, Sr.
F.
1946
y
Reckenwald
Math.
1927
y
Reichert
Karl
1954
y
Rennich
Peter
1943
y
1. Bass
Repholz
Frank
1950
y
Reuter
John M.
1949
y
Rieder
John
1922
y
Rieder
Mathias
1944
y
Rieger
Joseph
1947
y
Runkel
Herman F.
1956
y
Sauer
Nick
1947
y
Schaeffer, Sr.
John
1957
y
Schatz
Martin
1931
y
Scheer
John
1949
y
Scheurmann
Peter
1938
y
Schmidt, Jr.
Geo.
1941
y
Schmitz
Nick
1945
y
Schneider
Peter
1923
y
Schneider
Joseph
1938
y
Schneider
Mathias
1957
y
Schollenberger
Lorenz
1924
y
Scholz
John
1951
y
Schortye
Nikolaus
1952
y
Schuch
Jacob
1935
y
1. Bass
Schumann
Emil
1930
y
Schweitzer, Sr.
Nick
1950
y
Schwiegerat
Peter
1921
y
Selbrick
Louis
1954
y
Sellner
Michael
1953
y
Skramovsky
John
1939
y
Stockler
Simon
1950
y
Stollmayer
Jacob
1955
y
Strifler
Martin
1946
y
Stroebel
Frank
1935
y
Stroebel
John
1953
y
Stumpf
Michael
1931
y
Surchek
Frank
1939
y
Szakaszky
John
1927
y
Szilagyi
Stephen
1927
y
Toker
Joseph
1938
y
Tussel
Michael
1938
y
Uhlig
Max
1940
y
1. Bass
Urban
Leonhardt
1926
y
Voges
Fred
1941
y
Vollmann
John
1925
y
Vollmann
George
1950
y
Vollmann, Jr.
Frank
1953
y
Wantan
Paul
1940
y
Weber
John
1942
y
Wichner, Sr
Adam
1952
y
Wiener
John
1943
y
Wilhelm
Willie
1951
y
Saenger
Zelinka
John
1925
y
Zelinka
Frank
1957
y
Zerbus
Daniel
1931
y
Zoeller
Joseph
1956
y
---
St. Michael's School was staffed by the Sisters of Charity of Mendham, NJ, an order founded in Germany in 1849 by Pauline von Mallenckrodt. The sisters spoke German and taught the children in German and English, although the German was not necessarily the dialect spoken by the German-Hungarian children at home.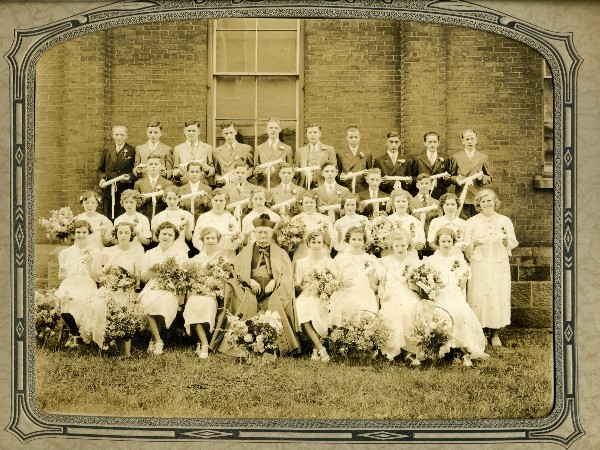 St. Michael's graduating class of 1936. The clergyman in the front row is Monsignor Hubert J. Behr, DD, who had been the pastor of St. Michael's since 1901. The young woman on the left as you look at the picture is Rose Schmidt, my godmother, whose parents were Anton Schmidt and Mary Hatzelhofer, from Arad St. Martin. The young woman immediately to his other side is Elizabeth Krier, my mother, whose parents were John Krier from Kleinbetschkerek, and Mary Schuch from Kleinsiedel.
[Mary Regan]
---
Neighborhoods
The city directories for 1937, 1939, and 1941 also show an association called the Deutsche Ungarische Kranken und Sterbe Kassenvon Elizabeth, NJ. Meetings were at 510 Court St. the first Friday of each month.
---
DVHH < Destination: The Americas < United States < Elizabeth, New Jersey (NJ)