Schwaben Club of Kitchener
1668 King St E, Kitchener, Ontario N2G 2P1
(519)742-7979
George Krachling, President
Peter Speckner, 2012 Event Chair


DVHH Kitchener Host:
Roy Engel of Pickering Ontario
Landestreffen der Donauschwaben was hosted at the Schwaben Club of Kitchener, Canada. The Kitchener Club has been waiting their turn to host the event for a few years now, so they are very excited that it finally happened. A special thanks to George Krachling, the Kitchener Club President and Peter Speckner, the 2012 Event Chair who generously provided the DVHH space and tables. These yearly events are very special, it's just like being among family; experiencing the excellent Donauschwaben food, music, dancing and camaraderie of celebrating our ancestors traditions.
The DVHH booth was hosted this year by Roy Engel, of Pickering, Canada and assisted by Eve Brown, of Durand, MI; (both are DVHH Mail List Administrators). Below photo of the DVHH tables and attendees: Roy Engel, Dennis Bauer, Henry Fischer, Middle: Eve Brown and Anne Dreer. Front: Noelle Giesse, Katherine Samuelson, Lori Straus and her little one.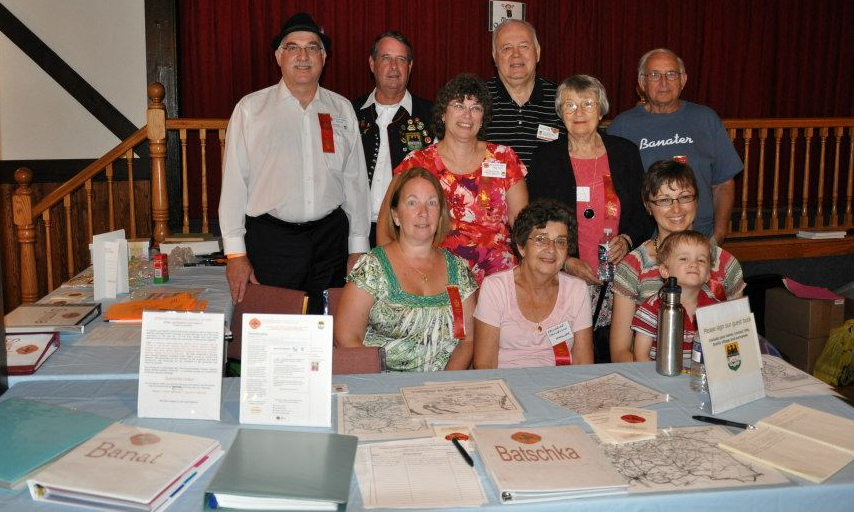 2012 DVHH Yearly Membership Give-Away Drawing Winners:
Alex Leeb, Calgary, CAN: Children of the Danube by Henry Fischer (donated by the author)
Robin Grube, Redlands, CA, USA: - Kirchweih Fest, A Donauschwaben Celebration from Europe to America by Elizabeth B. Walter (Donated by Jody McKim Pharr)
Lena Sorg, Toronto, CAN: Vom Banat Nach Kanada by Nick Tullius (donated by the author)
Hans Martini, Hamilton, NJ, USA: Die Lieblinger Küche "The Lieblinger Kitchen": Authentic Recipes from Liebling, Banat (donated by Vicky Stumpf, Lieblinger Vergnügungs Verein - Chicago, IL)
DVHH Certificate of Appreciation was presented by Roy Engel to George Krachling, President of Schwaben Club of Kitchener for their extended kindness to the our organization.