Katharine Samuelson
(Krimhilde Katharina Pospischil)
Canada

"Katharine, from sunny Delta"
---
Katherine was born in Lovas, Yugoslavia, Krimhilde Katharina Pospischil was the youngest child to Barbara Heckli and Johann Pospischil. Sponsored by her brother John Pospischil, Krimhilde and her mother came to Canada in September 1952 to start a new life. Unfortunately, by January of 1955 Barbara succumbed to cancer leaving Krimhilde an orphan. She went to live in a Catholic orphanage and was soon referred to as Katharine. By end of February, Katharine was wanted by a Canadian family with three boys. The Bouchards became her family. George and Gladys sponsored her to become Canadian Citizen at age 16, and she lived at home until she was married on November 7, 1964.
With profound sadness we announce the passing of Kathy Samuelson on the evening of February 14, 2021 from a battle with lung cancer. Survived by her loving husband of 56 years, Gerald Raymond, and her two daughters and families; Lisa and Darren Jarvis and son Samuel Jarvis, and Karen Samuelson and partner Kyle Conway and daughter Sarah Samuelson. Predeceased by her birth parents and brother, her adoptive parents and three brothers, and her first child, stillborn son.
Kathy leaves behind a legacy in all she did throughout her life. She was tiny in stature but grand in love and life. Her family was everything to her; she was a wife, mother, aunt, sister and grandmother. She will be missed immensely by her husband, her family and friends. She was an extremely diligent and dedicated worker and actively volunteered. She had a zest for life, doing crafts, ceramics, painting, knitting and sewing. Skiing and camping we're favorite family activities along with playing cards and board games. It was nothing for Kathy to host a Christmas dinner for 20 people or more. In her later years she was an active participant in her seniors centre. www.arbormemorial.ca/valleyview/obituaries/katharine-samuelson-krimhilde-katharina-samuelson/62495/
---
2008 - DVHH friends meet up in Vancouver BC,
during summer & spent 4.5 hours together. Left to right:
Rose Vetter, Alex Leeb; Katharine Samuelson, Guenther Vetter,
Rose Marie Leeb and Gerry Samuelson.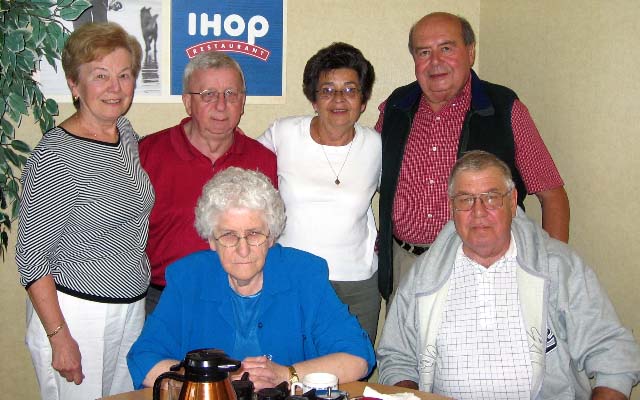 ---
2012 - Landestreffen der Donauschwaben - Kitchener, Ont.
DVHH tables and attendees: Roy Engel, Dennis Bauer, Henry Fischer, Middle: Eve Brown and Anne Dreer. Front: Noelle Giesse, Katherine Samuelson, Lori Straus and her little one.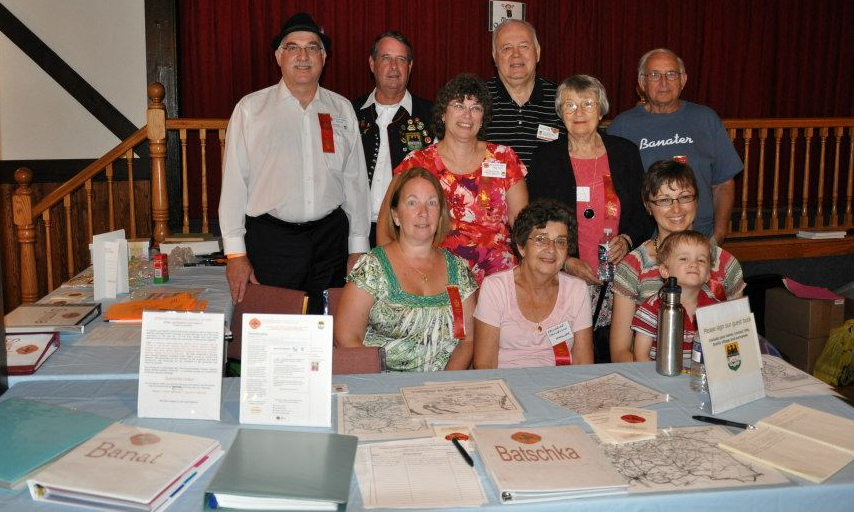 ---
Small world story . . .
by Anne Dreer
"When I was in Grade Three a new little girl came to our school. She escaped from a concentration camp in Yugoslavia with her mother and older brother. She was very skinny, had big brown eyes, looked very frightened and was afraid to speak. That teacher put her over the desk and whipped her so many times. The rest of us just looked on in horror wondering who would be next.
That little girl was Kathy Samuelson who I met sixty years later through (DVHH) Donauschwaben-Villages mail list two years ago."
Anne & Kathy, 2008


My Childhood Experiences as a Displaced Person
Engelhartszell, Austria & Durchgangslager Balingen, Germany
By Anne Koch Dreer, Published at dvhh.org 17 May 2008
---
Celebrating 10 years of extraordinary impact in the Danube Swabian Community Worldwide - DVHH Members, Volunteers, and Mail Listers, share what the DVHH has meant to them.
~ In their own words . . .
I was here - Wall of Descendants
My first introduction to the DVHH was through Dennis Bauer some years back. I signed up to read all the wonderful threads that encourage me, as I was a little shy to post. When I did post, I came in contact with Ewald Schneider who not only helped me immensely, but was also related to me six generations back and introduced me to Maxine Jones also a distant cousin. There was also Lianne Falzboden, Gabriel Schmitutz-Kraus, Andrés Bermüller, Paul Stagl, Paul Walter, Alex Leeb, whom I had the pleasure of meeting and others. And of course, there was my dear friend Anne Dreer, who was able to recall some of those years that became faint in my memory. She was able to introduce me to family that I did not know that I had on this side of the world. As an orphan since the age of 12, I made a new life trying to forget the horrors of the war and loss of all family, until my daughter indicated that we have no history. So you can see why I can only praise the DVHH for getting us together to share and research our families that we desperately want to know. As one of the list members stated a while ago. "How do we know where we are going, if we don' know where we have been".
So, this on the 10th Anniversary of the DVHH, I want to thank Jody and all the list members for contributing, so each and everyone that needs a helping hand can learn and prosper.
~ Katharine Samuelson, from sunny Delta, 2013