Franz Bohn
Pennsylvania, USA
Displaced Persons' Camps
in Post War Europe
Coordinator
Schwabenlager Groedig, Austria
by Franz Bohn
The 1950s Donauschwaben
Immigration Oral History Project
by Sophia Swartz
Interview with Franz Bohn, 2015

DVHH.org Celebrating 10 years of extraordinary impact in the Danube Swabian Community Worldwide
"I was here" Wall of Descendants:
I was here, Franz Bohn

"Mindboggling speed, and and totally reflective of her Donauschwaben pride, strict work ethic and strong insistence on being self-supporting . . ."
---
Franz was born in Vukovar, Yugoslavia, in 1941; and there his family lived a typical blissful and happy Donauschwaben life, until late 1943.
His father, a Korpflechter (Basket weaver), was conscripted into the German army in late 1942. Sadly, Franz's father fell on the Eastern Front in 1943, after which his mother who had worked as a housemaid, moved to nearby Alt (Stari) Jankovci to live with her father. Shortly thereafter, as the tide of the war turned, the war rapidly came to Jankovci, and in late 1944 they were abruptly forced to flee the barbaric 'ethnic cleansing' being conducted by Yugoslavian Partisans against 'anything German'.
They fled hurriedly, leaving everything behind, narrowly escaping certain death or forced hard labor camps. During their flight, they endured many weeks of extreme hardships, jammed into overcrowded boxcar trains, the cold, hunger, illness, frequent allied railroad bombings and most of all, the fear of the unknown. After many excruciating false alarms, they were finally permitted to enter Austria, in February 1945.
Due to the thousands of Donauschwaben refugees fleeing from Hungary and Yugoslavia, living spaces, food and medicine were in short supply. Franz and his mother were bounced around several Austrian DP camps, including Salfelden and Hallein, before finally settling in an abandoned WWI Russian POW camp of 7 barracks in the town of Groedig, on the outskirts of Salzburg. Since approximately 500+ camp occupants were Donauschwaben, the camp was accordingly called 'Schwabenlager'.
The first few years in the camp, food, water, warmth and medical care were scarce, and the living conditions of the previously abandoned barracks were quite harsh. The unheated barracks were infested with mice, rats, fleas and bedbugs, yet - ever so appreciated. When you have nothing, anything above that nothing is a God sent. During these years, crafty Donauschwaben men fashioned woodstoves (for cooking and warmth) out of wartime scrap metal and also started to repair the camp's electrical and septic systems.
Shielded by the the innocence of youth and endless childhood energy, life improved for Franz with each year. In 1947, the camp elders established a one room school, in Barracke 4, grades one through five with one teacher for all. They also loosely organized youth activity programs, including soccer and hiking. Franz was also an altar-boy at the nearby Niederalm Catholic church for two years.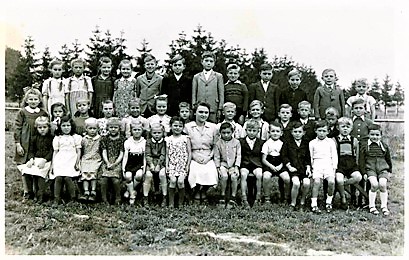 In 1951, after grade five, camp students were sent to a Jr. High school (Hochschule) in the city of Salzburg. That school provided life-impacting, real-life-lessons for Franz, since the Salzburg school students were all relatively well-to-do Austrian children, and the few refugee camp children there stood out like sore thumbs in terms of language, culture and quality of clothing. Being mocked, humiliated and looked down upon was a daily experience. The whole city-school environment was a significant culture shock, vastly different from the familiar, albeit poor, 'comfort' of the camp school. Many of Franz's life understandings and life-values were established by those formative experiences, and they were of immense value, later on, in his professional career.
Franz and his mother immigrated to the US aboard the General Harry Taylor refugee transport ship in Bremerhaven, arriving May 24, 1952 at Ellis Island. From there they traveled, via train, to Philadelphia where they were taken in by their Immigration sponsor, with whom they lived for three months. After arriving on that Saturday, Franz's mother got her Social Security card on the following Monday, and started working as an army uniform seamstress on Wednesday. Mindboggling speed, and totally reflective of her Donauschwaben pride, her strict work ethic, and strong insistence on being self-supporting.
Franz progressed through the elementary and junior/senior high school system in some of the toughest Philadelphia neighborhoods. In all schools, he excelled in both academics and sports (soccer). He was accepted to Drexel University in 1959, where he also played soccer, and graduated with a BS in Electrical Engineering. After graduation from Drexel, Franz married his wife Barbara and worked for the FAA's National Aviation Facilities Experimental Center (Atlantic City, NJ) for four years. In 1967 he accepted a Research & Development position at the prestigious US Naval Air Development Center (Warminster, PA), where he worked for 33 years. While working for the navy Franz received his MS degree in Engineering Science from Penn State University in 1973. He was the lead Technologist and Engineering Manager on many of the Navy's most sophisticated aircraft systems, many of which are still in use today. After his first unsuccessful attempt at 'retirement' in 1997, Franz continued working as a Navy contractor for another 20 years.
In addition to having played club and school soccer throughout his lifetime, Franz has coached numerous youth teams, including select teams, that participated in tournaments throughout Mid Atlantic region. He also refereed club, school and college soccer for over 20 years until 1991. In the 1980's, he took a youth team to Bad Nauheim, Germany, and reciprocated the following year by hosting the Bad Nauheim team, providing a rich cultural exchange experience for both the American and German players.
Now, in full retirement, Franz thoroughly enjoys his numerous hobbies, including cruising with his wife, Florida vacations, photography, woodworking, home improvements and metal detecting. He is the proud father of two sons, their wives and 6 grandchildren (5 soccer/baseball boys, one amazingly sweet and beautiful ballerina girl).
As one of the original DVHH Displaced Camp Coordinators, Franz helped establish this section which is devoted to recounting the WWII Donauschwaben refugee camp experiences.
~Franz Bohn, 15 Dec 2020
-----------------------------------------
[Published at DVHH.org 30 Jun 2021 by Jody McKim Pharr]